Coronavirus Update
SEE below for buttons to Masses, Rosary, Divine Mercy and Stations of the Cross
Dear Brothers and Sisters in Christ,
 
We pray all are healthy and well during these trying times.  In an effort to continue to serve the community of St. James, see below for services that will be available virtually.
St. James Website:  www.stjamesconway.org
Facebook Page:  Stjamesconway
St. James will be posting Mass on our website and Facebook page on Sundays at 10am in English and 12pm in Spanish.  Once posted they may be viewed at any time.
St. James daily Mass will be posted on the website and Facebook page starting Monday, March 23 at 7pm.
Mass intentions that have been reserved ARE being celebrated during this time frame.
Our bishop has advised our priests that anointing of the sick is only to be administered in the imminent threat of death.    The bishop has also given permission to celebrate funerals for immediate family only.  No other attendees are allowed.  Please call 843-450-4012 or 720-434-9093 if you have this situation.
Stations of the Cross, a rosary, and the Divine Mercy Chaplet are on our website and Facebook page to be prayed in the home.  Click the Masses, Rosary button below.
Our church is open daily from 9:30am to 3:30pm for private prayer.  Please practice social distancing if others are in the church as well.  Our staff is working together in 3 hours shifts to cover these time frames.  Please utilize the phone or email to conduct business with staff members to protect all involved.  If you have essential business that requires you to see a staff member in person, please practice social distancing to protect yourself and others.
Live streaming is also available through St. Michael's website.  Please use our webpage, and click the Live Streaming button. Mass times are listed on the button.
St. James parish is completely dependent on the generosity of our parishioners to pay our nearly $70,000 per month in expenses.  Staff is doing all possible to reduce these expenses.  We will still need funds to cover payroll and all other essential expenses.  At this time, we ask, if your situation allows, to continue your donations to St. James in one of the following ways.
1)  Utilize our online giving platform on our website under Share Your Gifts and then online giving or go to this direct link:  https://www.eservicepayments.com/cgi-bin/Vanco_ver3.vps?appver3=wWsk24ZW...
2)  Mail your donations to St. James Catholic Church, 1071 Academy Drive, Conway, SC  29526
3)  Drop your donation by the church from 9:30am to 3:30pm by placing it in the door slot of Fr. Oscar's office just inside the front doors.  Options one and two are the best options to prevent any contact between persons.
Please stay tuned to our website homepage and our Facebook page for updates as this situation continues.  All public Masses and events at St. James are canceled until further notice.  This includes Holy Week.
Fr. Oscar and the staff of St. James are praying for each of you.  We pray that you and your families remain steadfast in your faith during this time.  "Be on guard, stand firm in the faith, be courageous, be strong."  1 Corinthians 16:13
Mass Cancelation
Weekend and Weekday Liturgies
CANCELED until further notice
Mass Times
Weekend and Weekday Liturgies
CANCELED until further notice
Saturday:
4:30PM & 6:00PM English
Sunday:
8:00AM & 9:30AM English
Sunday:
12:00PM Spanish
Monday - Friday:
9:00AM
Confession Cancelation
Confession is canceled 
until further notice
Confession Times
CANCELED until futher notice
Mondays: 
9:30AM to 10:00AM
Tuesdays: 
9:30AM to 10:00AM, 7:00PM to 8:00PM
Wednesdays - Fridays:
9:30AM to 10:00AM
Saturdays:
3:15PM to 4:15PM
Sundays:
11:00AM - 11:45AM
Featured Events
Church Open for Private Prayer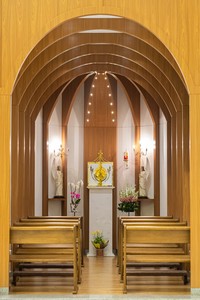 Everyday
9:30am to 3:30pm
Please practice social distancing