Information on Attending Mass at St. James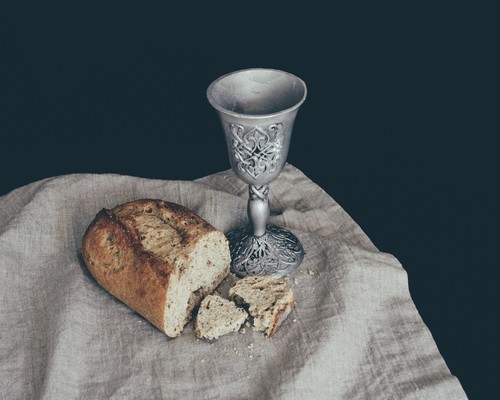 **ALL MASSES WILL BE STREAMING LIVE ON YOUTUBE 
FROM OUR WEBSITE by clicking the orange WATCH LIVE MASS in header**
Information on Attending Mass at St. James
We WILL NOT use last names as planned.  We accommodated everyone in the church last weekend.  All those wishing to attend Mass should proceed to the side church entrance, on the old playground side of church.  We have only one entrance.  Please note, doors at front circle will be locked.  It is best to park in the rear of the church.
Please note, parking lots will close 5 minutes before Mass so that those who choose to remain in the parking lot and use devices will participate in the entire Mass before receiving communion.  When Mass concludes, process up to the church on the sidewalk, which is on the old playground side, receive communion in the gathering space, and exit following the arrows on the floor.  Please remember this option is available to avoid any crowd and still receive communion.
To receive communion, please keep your mask on to receive the precious body and then remove your mask to consume it.  If there is a large number of attendees, communion will be distributed at the end of Mass.
Individual confessions will resume on Monday, June 1, with our regular confession schedule.  Please note, confessions will only be heard for one hour after the daily Masses, 7:00pm to 7:45pm on Tuesdays, then again on Saturday from 3:15pm to 4:15pm and Sunday from 11:00 to 11:45am.  Until then, general absolution will be given to all those on campus for Mass on the weekend.
Perpetual Adoration will reopen on Sunday, June 14, at 12pm.  
Until further notice, no one has an obligation to attend Mass, and therefore no sin is committed by anyone who does not attend Mass until this pandemic is over.  Since you do not have to come, you should not come if you are over 65, have diabetes, have cardiac or respiratory disease, have a compromised immune system, or have any of the other risk factors identified by the CDC.  Put most simply, do not come to Mass if you should not be in groups or even if you are just concerned about the risk of infection for any reason whatsoever.
Remember
Practice social distancing
Always wear a mask 
Worshippers who are sick should not enter the building
Worshippers are to use the restroom only if absolutely necessary
Worshippers are strongly encouraged to receive communion in the hand
Donation Opportunity
Fountain for Pond
for a FOUNTAIN for our new irrigation pond on the far side of the Founders Center. 
Thanks to the many volunteers from the Hispanic community, who worked hard to put in our new irrigation system throughout the grounds.  We would love to have a beautiful fountain flowing in our pond to help make this area as beautiful as the rest of the church grounds. The cost of a fountain that will also help control the algae and bacteria in the pond is around $3,000.00.  If you would like to make a donation toward the purchase of this fountain, please call the church office or send a check to St. James, 1071 Academy Dr, Conway, SC 29526.  Marked "Fountain."
WE THANK ALL THOSE VOLUNTEERS WHO HAVE MADE THIS IRRIGATION SYSTEM POSSIBLE!
Donation Opportunity
Cope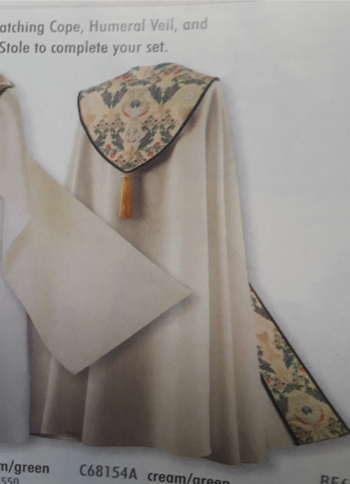 DONATIONS NEEDED FOR A COPE FOR THE PRIEST TO USE DURING HOLY HOUR AND CORPUS CHRISTI.
THE COST IS $1,000.00.
IF YOU ARE INTERESTED IN MAKING A DONATION TOWARD THE PURCHASE OF THIS COPE, PLEASE CALL THE CHURCH OFFICE OR SEND IN A CHECK TO ST. JAMES MARKED "COPE."
Mass Times
Weekend and Weekday Liturgies
Saturday:
4:30PM & 6:00PM English
Sunday:
8:00AM & 9:30AM English
Sunday:
12:00PM Spanish
Monday - Friday:
9:00AM
Confession Times
Resuming June 1, 2020
Mondays: 
9:30AM to 10:00AM
Tuesdays: 
9:30AM to 10:00AM, 7:00PM to 8:00PM
Wednesdays - Fridays:
9:30AM to 10:00AM
Saturdays:
3:15PM to 4:15PM
Sundays:
11:00AM - 11:45AM
Featured Events
Church Open for Private Prayer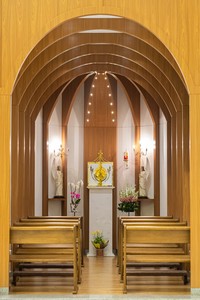 Monday - Saturday
10:00am to 3:30pm
Sunday
2:00pm to 5:00pm
Please practice social distancing