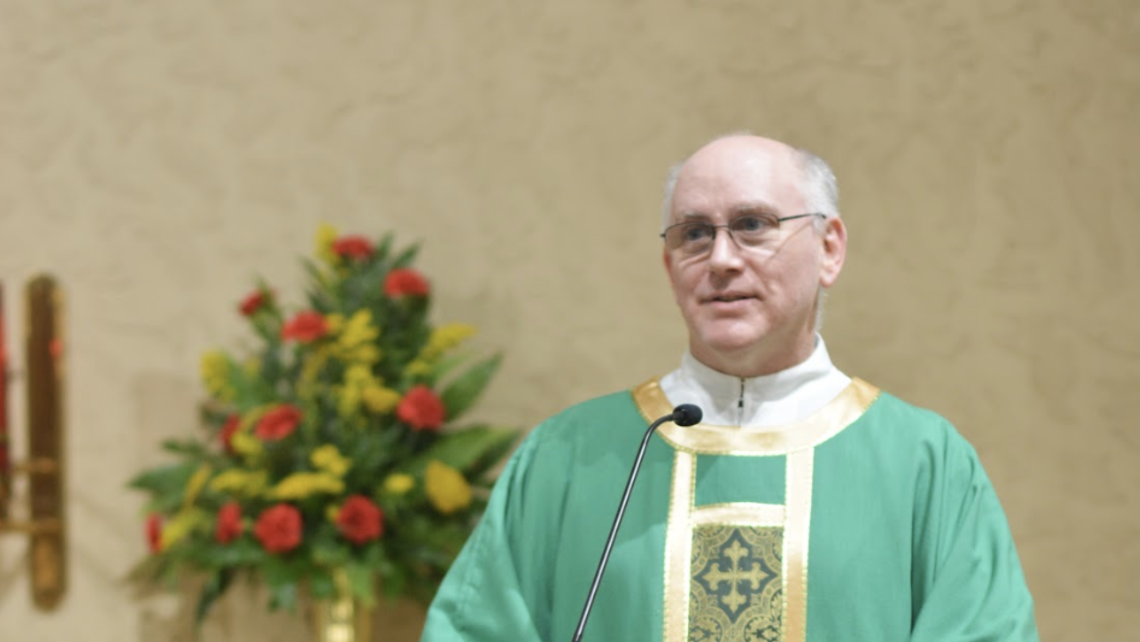 What's Love Got To Do With It?
Sixth Sunday of Easter Cycle B
Acts 10:25-26, 34-35, 44-48
1 John 4:7-10
John 15:9-17
I attended a retreat for deacons several years ago where I was warned by a young but already pretty wise Franciscan priest and theology professor, Father Dan Horan, that love is a very difficult topic to get across in English. Greek has several words for it, distinguishing first a fraternal love, that love for family and close friends, second romantic love, that love which is a whole range of emotions between two people which results in courtship and physical bonds, and third that is that love born of compassion, mercy, and care, in Greek agape, which is awkwardly translated as "tough love" by some. Father Horan told us that throwing out the word "love" without further description was dangerous. For instance, at most marriages, mine included, we read one of the most beautiful descriptions of love ever written, that of Saint Paul to the Corinthians [12:31-13:8]. You know the one: "Love is patient, love is kind. It is not jealous, is not pompous…" When the bride and groom picked this reading out, many were probably saying, or at least thinking, to each other, "Oh, pumpkin, he's talking about us!" And Saint Paul is talking about them all right, but just not in the way that most couples still in the throes of romantic infatuation think he is.
Saint Paul is describing the same love that Christ is talking about in the Gospel today as well as the love Saint John describes in the second reading. And it is a wonderful coincidence that we have two events occurring together that help us get at the root of just what this type of love is. This weekend is Mother's Day, and this year it is occurring right in the middle of the year which Pope Francis has dedicated to Saint Joseph, the earthly father of our Lord. The love of a mother and a father for their children and each other is one of the greatest examples of the selfless love which Christ both speaks about and demonstrates in His ministry. It is this type of love which brings a family true joy. It is the outward love of others which God asks of us and not the inward looking love that craves one's own needs be met regardless of the impact on those around one. It is the agape love which Saint Paul is talking about and is very appropriate for a wedding, since a truly happy marriage is one where this type of love will persist even if the romantic love of newlyweds fades over time.
In his broader letter, Saint John gives three tests for authentic discipleship: faith, love, and obedience. In the excerpt taken for today's second reading, he is describing love. God is love Himself, and the Father and the Son demonstrate this love for us, and Christ is the sign of the love for all humanity in that He is given to reconcile us to God. This then is the love we must return to God and to extend to one another. The passage for the Gospel taken from John is from Christ's teachings to the Apostles after the Last Supper on Holy Thursday night, the night before He died. His love for his friends, a love that can be laid down for them, will therefore be demonstrated that very next afternoon, where Christ will die for our sins.
In a commentary I read by Father Krempa, he explained that the first two types of love, the fraternal and the romantic, are feelings that are involuntary and are mostly out of our control, as the familiar terms to "fall in love" or "to be smitten" get at, the person being almost a passive object of the emotion rather than an active initiator of the feeling [Krempa, S. Joseph, Captured Fire, New York: Society of St. Paul, 2005, p. 60].
The love that Christ is talking about, the Christian love of one another God requires, is on the contrary a voluntary act, and in the case of people who are not very likable, is an act of conscience and deliberate will to subdue one's natural negative feelings. If we love another, we concern ourselves with their welfare regardless of our feelings towards them. Even those towards whom we have great emotional love, such as our families, often require this other love in times where our feelings of love are overcome by other passions such as anger, resentment, or envy. This is why Saint Paul was talking about marriages and families, among other things, when he was discussing love, and why we should mention it at a wedding. If the marriage is based only on romantic love, it is doomed. If there is also a Christian commitment of loving concern for the welfare of the spouse, children, and other relations, the marriage and family will be strong and will endure the hardships that life inevitably throws into our paths. This is the love of a mother that we celebrate on Mother's Day, and is the love that Saint Joseph had for both Jesus and Mary.
Christian love is a decision, a choice. Just as Jesus says in the Gospel, "It was … I who chose you" [Jn 15:16 NABRE], we too have the choice to follow Him, since He also says that we are not slaves but free to make the choice. As we come to the altar in a few minutes when we celebrate the Eucharist, that too is a voluntary decision – no one will force you to come up. But if we ask for this sacrament, this grace born of God's voluntary love, then we too must accept his teachings to love one another, not just those we like with natural feelings of love, but of all God's creation. Let us resolve, with God's help through the sacraments and prayer, to work on better exemplifying the standard that He sets for us.
Changing subjects a bit, I'd like to discuss the Diocese of Charleston Capital Campaign. As most of you know, the Diocese was founded two hundred years ago last year, but most of the planned celebrations were canceled due to the pandemic. All churches in the diocese have made or are making a campaign for this cause, of which fifty percent goes to the diocese and the rest to our parish. The diocese has put controls on this money with a layperson oversight board and other controls to ensure that it is spent wisely on behalf of the bishop and the individual churches. More details are available on the specifics on the website for the diocese [https://charlestondiocese.org/bicentennial/campaign/]. They ask that people pledge money over a five year period, so the amount per month is manageable, or a one-time contribution is also welcome. This drive was just kicking off at Saint James when the pandemic hit, and so a few people had been contacted before the drive was postponed, but enough was pledged by this small number of individuals that our parish has already been able to buy with these funds the new sign that you see out on Highway 501. Our parish has outlined other needed improvements for these funds, such as bathroom upgrades, window replacements, and parking lot re-pavement. If we exceed our goal we can take on other projects as well. Please prayerfully consider giving generously to this campaign. I said I was changing the subject, but it is a willful act of love of neighbor to ensure that we have decent facilities so as to attract those who may not be regular parishioners to again return to the Church. Like the mothers we celebrate today, who want the best for their children, so too we should want the best for our Church. Let us give from the many blessings that God has bestowed, and let us pray that He continues to bless us.